There is No Time Like the Present, and No Present Like the Time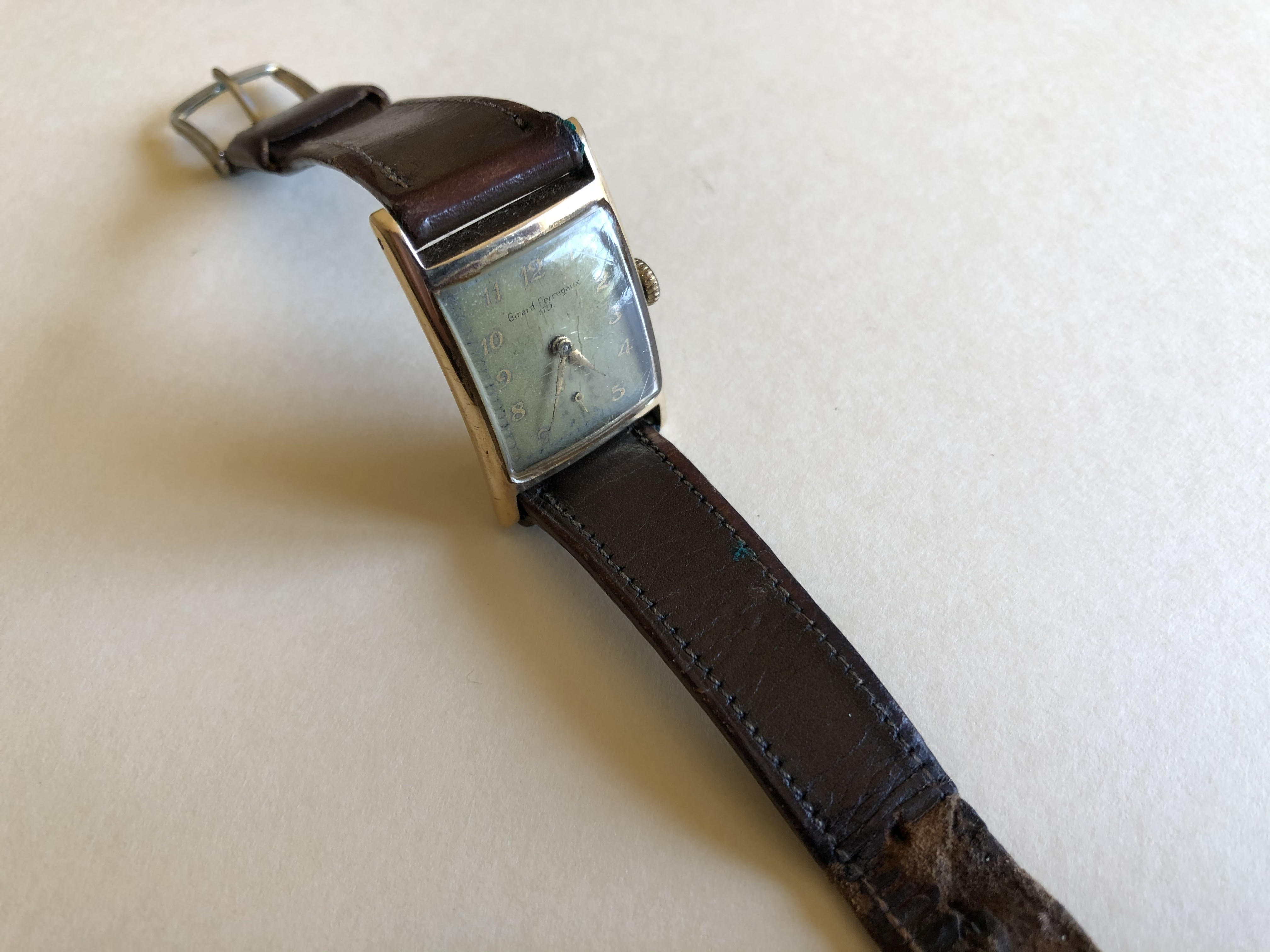 The headline above was from an ad for luxurious watches. I borrowed it from the copywriter to illustrate my point.
The watch pictured above is also a fine timepiece. It was a gift from my mother to my father on March 15, 1948—three years after he returned from Iwo Jima during World War II—and six months before they married in September of that year.
Over the years, I never paid much attention to his old watch, except how he cherished it. By the time I noticed it, it had long stopped ticking. He kept it in the top drawer of his dresser—where he would see it every day. I remember him telling me it was a gift from my mom and it was quite expensive in its day.
Today, as I examine this timepiece, I run my fingers over the frayed wrist band which tells the story of the years it rested on his wrist. I notice the yellowed dial and date engraved on the back, revealing the seventy-four years that have transpired since she presented it to him. At the time, they knew they would soon plan their lives together—but couldn't imagine the six children that would one day be honored to call them mom and dad. I run my thumb over the crystal, so scratched from use that I can barely read the brand on its face.
I look closer and, in the proper light, I read Girard-Perregaux. Never heard of it. The brand means nothing to me. Curious, I sit at my laptop and conduct a Google search. Girard-Perregaux is a fine Swiss watch manufacturer established in 1791, so my father's watch was designed by one of the oldest watch manufacturers still in operation in Switzerland today. I peruse the website and read about the company's commitment to quality. I pause a minute and think about what my mother must have been thinking when she purchased it. She was practical, down-to-earth, but generous—and in love. She would have wanted the watch to send a message to her fiancé. Her message? The value of a gift is not what it's worth; it's what it says about your worth—to the giver.
As I hold the watch in my palm now, and flip it over, she had engraved his initials above hers, separated by the date:
J.H.M.
3-15-48
R.J.B.
I wonder to myself if this was an engagement gift or an early wedding gift. I never thought to ask. Whatever her intent, and regardless of the value of the watch, my father treated it with the reverence he held for her. It was as valuable to him the day it stopped forever as it was when he opened the box.
She died in 1965, after having six children and only seventeen years of marriage. He would hold on to the watch until his death in 2008—sixty years since proudly wrapping it around his wrist for the first time. That's when I took possession of it.
As I gaze at this fine timepiece now, it's not only a family heirloom, it's a reminder of a marriage that was measured by so much more—than time.
###
SOMETHING TO CHEW ON: What do you own—or do—that has become a trademark of your marriage—or another relationship vital to you?
YOU MIGHT ALSO ENJOY:
Seventy-four years since my mother presented my father with his watch, the G-P product offering has grown exponentially in size, status, and value. I had never heard of this brand until this week. https://www.girard-perregaux.com/usa_en/